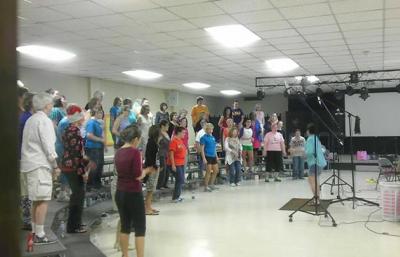 MNC recorded the tracks for our new CD, Silver & Gold, on Saturday, September 20, 2013.  With the help of some WD-40 to quiet squeaky risers and a few "freezes" to ensure our cutoffs were cough-free, we captured 12 holiday songs and a few reps songs.  It was a great day of recording, harmony, and friendship!  
One of our members brought in stockings and garland to put us all in the mood.  And luckily it was a cool September day, since we had to have the A/C off to reduce ambient noises!
We can't wait to share out new CD with you -- if you'd like to receive and email when it's available for purchase - add your name/email to our list.