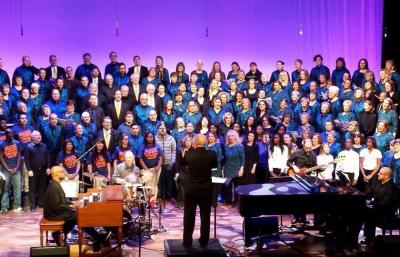 "Thrill of lifetime" was a phrase on many members' lips when MNC sang at the Ryman Auditorium on Tuesday, March 4th.  The event, hosted by Nashville In Harmony, brought five Nashville choruses together for a "Choral Blast."  And it was truly a blast!
As you may know, the Ryman Auditorium world-famous Nashville venue, best known as the most famous former home of the Grand Ole Opry (1943-1974). Its history goes back to 1892, when it originally opened as the Union Gospel Tabernacle.  Its history as a house of worship can be seen in the stained glass windows and pews rather than seats.
It was inspirational to sing on the same stage that has seen more than a century of performers such as Hank Williams, Elvis Presley, Johnny Cash, Patsy Cline, and Minnie Pearl.  The evening was capped off with all five choruses performing together "Why We Sing" and "Awaken the Music", under the direction of the songs' composer, Greg Gilpin.
The themes of the evening were diversity and community, two ideas that were brought to life by the variety of singers and songs that crossed the stage.
MNC will always remember and cherish our evening at the Ryman!