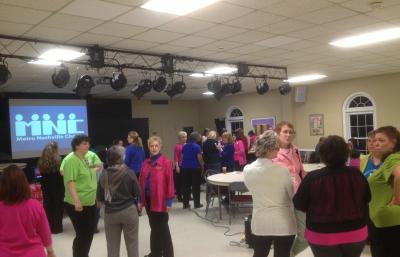 All over the globe this month, Sweet Adelines International choruses are joining together to teach the world to sing. Women of all ages who enjoy singing were invited to a Metro Nashville Chorus Open House, 7pm Tuesday January 22, 2013 at Forest Hills United Methodist Church, 1250 Old Hickory Boulevard, Brentwood, TN.   Metro Nashville Chorus is a chapter of Sweet Adelines International, an organization of nearly 25,000 women worldwide who sing four-part a cappella harmony, barbershop style.
Metro Nashville Chorus members share a love for music and singing barbershop harmony. Any woman of average singing ability, with or without vocal training, will find a part that fits her voice range with the help of the chorus' musical leaders and director.
Founded in 1971, Metro Nashville Chorus performs regularly throughout the Middle Tennessee community, offering its talent for entertainment at civic events and charitable functions. The chorus, under the direction of Master Director Kim Wonders, has earned the right to compete internationally eight times, and has won gold medals in their size division three times.  They were mid-size chorus champions in 2012 and 2008, and small chorus champions in 2006.  At this year's International Contest, held in Denver Colorado, Metro Nashville Chorus earned the 2013 Harmony Achievement award.
"Our chorus has been singing in Nashville for more than 40 years,"   said Master Director Kim Wonders. "But some people have never heard about us.  On January 22, we performed for our guests, share videos of International performances, teach a barbershop tag or two, and, most importantly, enjoy meeting new friends."