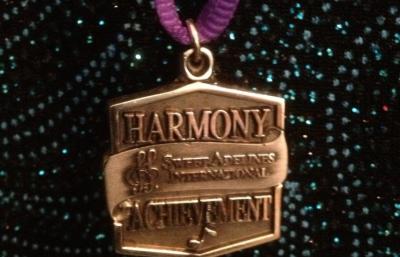 Metro Nashville Chorus was awarded the 2013 Harmony Achievement medal at the annual Sweet Adelines International competition, held this year in Denver, Colorado. 33 of the best choruses in the world competed in the Pepsi Center Arena on November 1, 2012.
The International competitors ranged in size from 39 to 149 members, with an average of 73 on stage. 41 Metro Nashville Chorus members competed in Denver. The chorus finished in 12th place, earning the Harmony Achievement medal, which was established in 1991 to recognize the highest scoring smaller chorus in Sweet Adelines International Competition.
The chorus, under the direction of Master Director Kim Wonders, has earned the right to compete internationally eight times, and has won gold medals in their size division three times. They were mid-size chorus champions in 2008 and 2012, and small chorus champions in 2006. Metro Nashville Chorus is the only chorus in Sweet Adelines to have won gold in both size divisions.
"We are thrilled to win the Harmony Achievement medal," said Master Director Kim Wonders. "Our organization focuses on education and performance, and whether there are 4, 40 or 400 on stage, the goals are quality singing and an emotional performance that connects with the audience. I am so proud of the journey our chorus is on."
Upon returning from Denver, the chorus presented its annual show, Heartfelt Harmony, on Saturday, November 17th at Lipscomb University Collins Auditorium. They are currently preparing for a free Open House on Tuesday January 22, 2013 at 7pm. More information can be found on the organization's web site: www.metronashvillechorus.org.