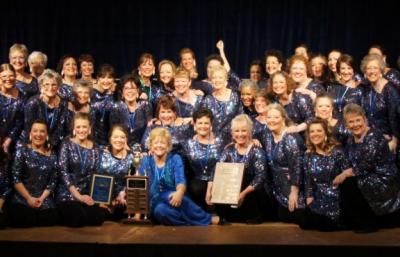 Metro Nashville Chorus was named the 2013 Regional Chorus Champion at the annual Sweet Adelines Regional competition, held April 6-8 in Chattanooga, Tennessee. As a result, Metro Nashville will travel to Baltimore to compete with the top 35 choruses in the world at the 2014 International Contest. Although they have qualified as a wildcard several times, the last time Metro Nashville Chorus won the Regional Chorus Championship was 1989.
Metro Nashville was also named regional Division AA champion (awarded to mid-sized choruses with 31 – 60 singers on stage). Metro Nashville had 45 members compete in Chattanooga. The other Regional competitors ranged in size from 20 to 79 voices on stage.
The chorus, under the direction of Master Director Kim Wonders, has earned the right to compete internationally nine times, and has won gold medals in their size division three times. They were mid-size chorus champions in 2008 and 2012, and small chorus champions in 2006. Metro Nashville Chorus is the only chorus in Sweet Adelines to have won gold in both size divisions.
"We are thrilled to be the Regional Chorus Champion," said Master Director Kim Wonders. "Our organization focuses on education and performance, and whether there are 4, 40 or 400 on stage, the barbershop sound is about ringing chords and telling a story. There are many amazingly talented choruses in this organization. I am so proud of the chorus and our journey."